Product Description
FRP SMC GRP Sectional Water Storage Tank
Panel sizes currently offered are:
1 metre square
1 metre by 1/2 metre
1/2 metre by 1/2 metre
1. Standard
Being the first recommended product by National Construction Material and Industry Bureau and Ministry of Construction, our SMC Water Tank lives up to the JC658 and 1-1997 technical request. The water quality complies with the Drinking Water Standard (GB5749-85) of our country.
2. Application
Industry, Mining, enterprises, public institution, residences, hotels, restaurants, reclainmed water disposal, fire controlling, other buildings to serve as the water storage facilities for drinking water, other water storage usage.
3. The specification and performance of SMC mould pressing panel
SMC water tank is made through high temperature, high pressure and mechanical suppressing. In the exterior design, the hollow radian at the center of panel helps to improve the tanks' pressure resistance ability. In the meantime, there are bulge rims of 45 or 60 degrees on the panels, which leaves out connection parts, making it more flexible and adaptable.
The specifications of water tank panels are 1000mm×1000mm, 1000mm×500mm, 500mm×500mm, the thickness include 5mm, 8mm, 10mm, 12mm, 14mm, 16mm. And 5mm panels specilized be used for covers.
Performance of the panels
| | |
| --- | --- |
| Items | Perfomance Index |
| Tensile Strength, Mpa | ≥70 |
| Flexural Strength, Mpa | ≥100 |
| Flexural Modulus, Gpa | ≥5900 |
| Barcol Hardness | ≥60 |
| Water Absorption | ≤1.0% |
| Glass Fibre Content | ≥25% |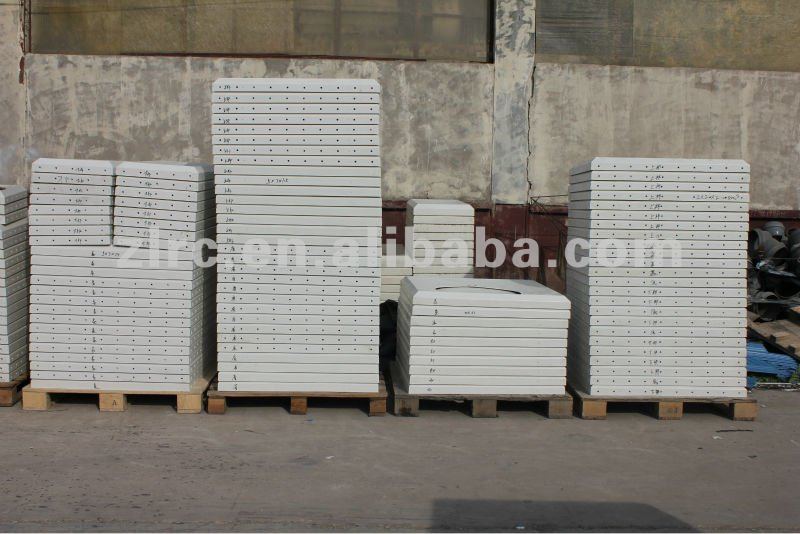 Product Categories : Frp Product > SMC Water Tank