medium size FRP production Pultrusion machines
Product Description
 1.Product instruction
1) The whole production line occupe 20-30M at length, 3 meter at width, about 60-100square meter
2)The main machine is steel structure, stainless steel panel, side panle is paint.
3)Traction gantry make ordered according to requestd length.
4)Hydraulic station: we ued the latest technology: pump is multi-group pump source (to ensure stability in forward speed.) Hydraulic parts are made of stacked clip (easy maintenance), and the tension and clamping force can make stepless adjustment. Traction speed with precision throttle, to ensure the stability of traction speed, and stepless speed adjustment of the traction. Hydraulic station with switch, so as to control the hydraulic oil heating up and down, so as to ensure the normal operation of the hydraulic system 
5)Using function: it have single and double manually operated gantry and double gantry automatic reciprocating running function. Automatic intermittent time can be automatically setted, and the actual production tension can be feedback.by sensor
6) Three-stage temperature control of thermal temperature control device, to achieve automatic control of heating temperature of the mold
 
2.Features:
1) Compact structure, smooth moving, convenient operation and easy maintenance.
2)Infinitely variable frequency speed regulation, PLC circuit control panel.
3)Adjustable route, mould changing more easily.
4) It adopts manipulation grip to feeding, accurate and reliable synchronously.
5) Designing all mould according to customers' requirements.
3. Technical parameter: 
Roving racks: Dimension 2000mmx600mmx2000mm (5 layers) 
Number of rolls: 105 
Resin bath: 3 layers 
Calibrating table plate: 1200mmx1200mm 
Temperature zones: 24 
Heating plate (optional): optional
Dimension: ≈ 3mx1.6mx1.9m 
4.Picture description of pultrusion process 
.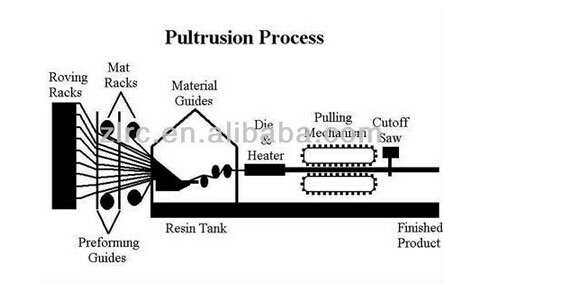 5. Applicaton:
This production line can be used to produce different size and type FRP products, with different Moulds. The products type like round tube, rod, angle, I-beam, channel, square tube, rectangular tube, flat sheet etc .The machine just need one person to operate ,so it  can save the manpower cost at the greatest extent.
 

6. Specification
Type

Item

ZL-3

ZL-6

ZL-10

ZL-12

ZL-15

ZL-25

ZJ-40

Pulling Force(Tons)

3

6

10

12

15

25

40

Clamping Force(Tons)

Manual

6

10

12

15

25

40

Pulling Speed(m/min)

0.1~1.4

0.1~1.5

0.1~1.5

0.1~1.5

0.1~1.5

0.1~1.2

0.1~1.2

Envelop

(WxH)m

0.25x0.07

0.6x0.15

0.6x0.25

0.7x0.3

0.8x0.35

1x0.5

1.2x0.5

Motor Capacity(KW)

2.2KW

2x3KW

2X4KW

2.X5.5KW

2X7.5KW

2X7.5KW

2X11KW

Heating Capacity(KW)

9.6

9.6

9.6

12

14.4

18

18

Heating boad size(LxW)m

0.85x0.4

0.85x0.6

0.85x0.6

0.85x0.6

0.85x0.7

0.9x0.8

0.9x1.2

Temp. Control

Automatic temperature control panel

Temp.control of regional

3 Region

6 Region

Electrical Control

Transducer

24VDC Relay or PLC

Dimensions(LxW)m

6.2x1.2

8.3x0.85

8.4x0.9

10x1.0

11x1.1

11x1.3

11.5x1.54

Total Weight (Tons)

1.2

3

3.5

4

4.5

6

7

Transmit Type

Mechanical drive

Hydraulic
If  the machine you request is not fall in the above specification,we can design and manufacture it according to your requirements.
 As customer's requirement 
We Can produce it according to the customer's requirements, and can make the
products have very good integrity and good quality.
Beijing ZLRC Environmental protection equipment Co.,Ltd. is the supplier of FRP machineary and products. It engage in the development of the FRP pipe production line, FRP filament winding tank production line, pultrusion machine, grating machine and other relatived equipments. The main products include: FRP/GRP pipe, tank, cable tray, profile, cooling tower, SMC Water Tank, FRP fan, FRP waste gas Scrubber.. and Central air conditioning terminal products. We are a Modern enterprise focusing on manufacturing, sales, installation and aftersale service. Based on idea of people-oriented, pragmatic innovation,, integrity and Efficient, pursuit of excellence. Taking customer satisfaction as standard, with high quality product, good service and sincere cooperation with friends all over the world, to seek common development.
1. Q. Are you a trading company or manufacture?
 A:   We are manufacture; we have our professional manufacturing teams and technicians
 2.Q. How long is the warranty of your equipment?
 A:  One year warranty, in the meanwhile, quality inspection before delivery; during the warranty period, we can replace the damaged consumables for free, after the warranty period, we have a good price for consumables for our customers.
 3. Q: Do you have technical support?
 A: Our Company is responsible for installation and debugging of equipment, meanwhile, responsible for the technology and operation training for user operator.
 4. Q: Is overseas after-sales service available?
 A: Yes, and after installation we will teach you basic operation and maintenance method.
5. Q: May I customize my own equipment?
 A: Yes, please inform us your needs in details and we will design the facility per your data.
Product Categories : Frp Production Line > FRP Pultrusion Machine